Cycle Touring the Danube River in Austria
(Rad Tour auf der Donau in Österreich)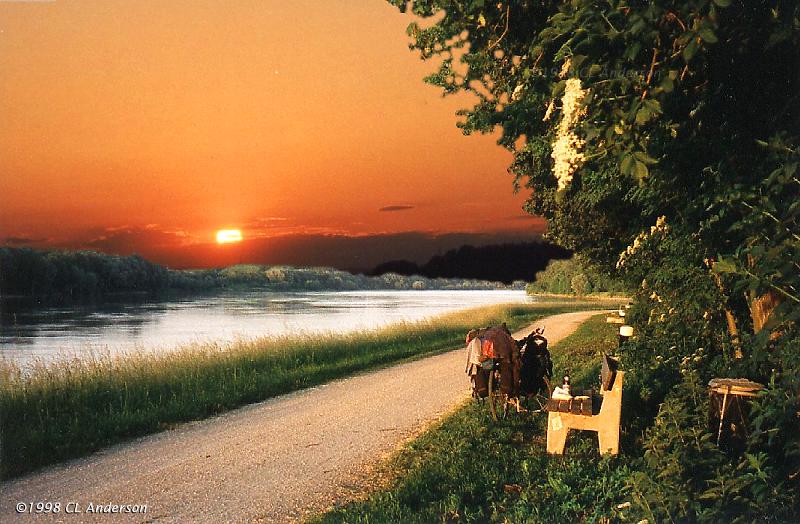 A spot to "camp" for the night along the Donau (Danube) River near Tulln, Austria. This is a composite shot of my bike and the bench that was my home for the night. The sunset was actually behind me, over my shoulder. That's Venus, high in the sky above the sun. The sunset picture was taken at about 10:30PM (22:30).

The following thumbnails are links to pictures, accompanied by descriptions which give a general idea of what it's like to bicycle in Austria along the Danube River, and into the voralps (the fore-alps). For anyone considering such a ride (the Danube River Trail makes for an easy self-supported tour), I hope these pictures inspire you to follow through with your plan. For those who have been there, I hope it brings back memories. Enjoy.
Cycling in Austria and Along the Danube
---
Prev
Return to Scenes From The Road Thumbnails
Next
---
---
Cycling Synchronicity in Austria - Ramblings from My Amblings
---
| | |
| --- | --- |
| | Click left to see the map I used (bought in Vienna). |
| | More information on the Danube River Cycle Trail (Donauradweg) from the Austrian National Tourist Board. |
| | Information on other Cycle Tours in Austria. |
| | General Information for Cycling in Austria from the Austrian National Tourist Office. |
| | The Austrian National Tourist Office Home Page |
| | The Mariazell Homepage. |
---
Cycle Tourist Home
---